Injectables Services
Botox®
Book Ft. Lauderdale Appointment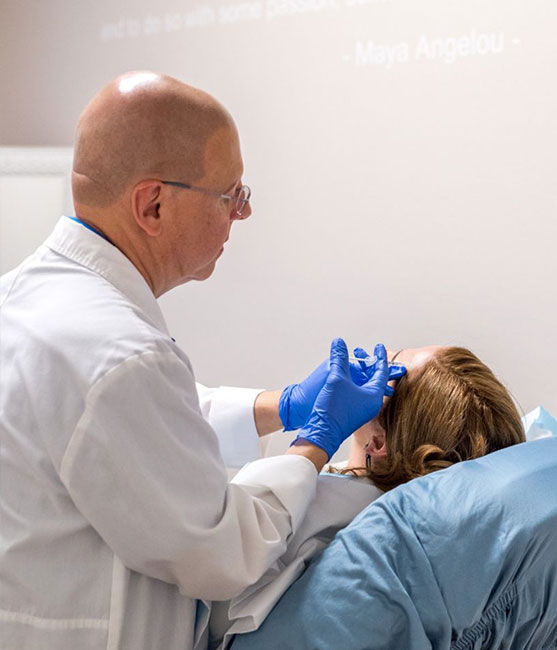 What is Botox®?
Botox® is a general term used to describe a method of injecting Botox®, Dysport®, Jeuveau ®, or Xeomin® into various locations on the face to reduce common expression lines. Do you want to visibly reduce the signs of aging? Squinting, laughing, frowning, smoking and worrying can all cause the skin around the eyes and forehead to develop deep lines and wrinkles. Most people are concerned by these lines because they feel they make you look older, stressed or tired. Common expression lines can be significantly reduced through the use of Botox®, Dysport®, Jeuveau ®,  or Xeomin®. They are prescription medicines that are injected into one's muscles and used to improve moderate-to-severe frown lines between the brows on the face.
At Shining Way Esthetics, our healthcare professionals administer Botox® through a simple, nonsurgical treatment that is injected directly into the area between the brows. Millions of doctors and patients are using Botox® because of the benefits it provides such as real, noticeable results with no surgery or recovery time.

Botox® can also be used to treat: Hyperhidrosis – overactive sweat glands for the hands, feet, or underarms Heavy eyebrows and crows feet Migraine headache sufferers Turkey neck by relaxing platysmal bands (Nefertiti Neck Lift)
Contact Shining Way Esthetics today for all of your Botox® needs or to learn more about the simple, nonsurgical treatment. Our staff is dedicated to helping you look and feel great. Shining Way Esthetics also provides Dysport® and Xeomin®.
Call today to be on the way to a better, healthier you. We offer all of our services in a comfortable and relaxed environment; we are committed to helping each patient look and feel great on the inside and the outside.